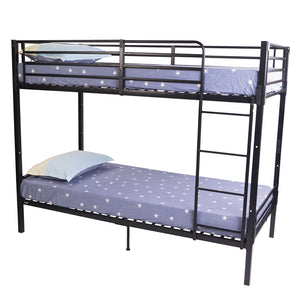 The Milly Bunk is a solid metal bunk bed that is simple to assemble & even splits down to make 2 single beds.  There are no nuts or bolts, therefore no tools required, and can take as little as 10 minutes to assemble.This bed is constructed with patented cutting edge technology which makes putting this item together a breeze.
The sturdy steel frame is finished in a modern grey finish.
Each of the beds can take 150kg (over 23 stones) in weight, making it suitable as a contract bunk bed.
Due to Bunk Bed Safety Regulations, only thinner Mattresses are suitable for use on the upper bunk. - FREE MATTRESSES FOR TOP AND BOTTOM BUNK
No nuts or bolts for easy assembling
Can be assembled in 10 minutes
Splits down to 2 single beds if required
Each bed takes 150kgs (23 stone per bunk)
Accepts 2 Standard UK Single Mattresses (90cm x 190cm)
To minimise the danger of falling from the top bunk, we recommend that the top of the mattress should always be at least 16cm below the top of the lowest part of the guardrail. Maximum mattress height for this bunk is 18.5cm
Overall Size
98cm D x 198cm W x 160cm H
FREE TOP AND BOTTOM BUNK MATTRESS WITH OUR CURRENT PROMOTION
DELIVERY CHARGE OF £35 APPLICABLE PRIOR TO DELIVERY