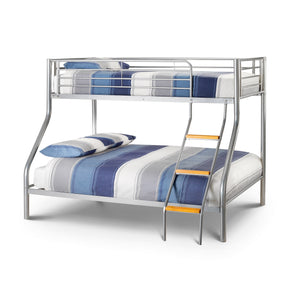 *** THERE IS AN 10-12 WEEK WAIT ON THIS ITEM AT THE MOMENT ***
WE ARE CURRENTLY WAITING FOR THIS ITEM TO RETURN TO OUR STOCK.
OUT OF STOCK
LOOK AT OUR OTHER TRIPLE / TRIO SLEEPERS THAT WE HAVE IN STOCK
Our Reno Triple Sleeper is VERY SIMILAR to this
This sturdy powder coated steel trio bunk bed incorporates solid wooden ladder rungs, ensuring long lasting durability. Featuring a single (90cm wide) bed on top and a double (135cm wide) bed on the bottom, this Atlas triple sleeper offers a spacious sleep suitable for three people. With a sleek aluminium design, suitable for the majority of decor in any room. FREE MATTRESS FOR TOP AND BOTTOM BUNK
PLEASE NOTE THAT WE ARE CURRENTLY OUT OF STOCK ON THIS ITEM & IT WILL BE 10-12 WEEKS FOR THE STOCK TO BE REPLENISHED.
Due to Bunk Bed Safety Regulations, only thinner Mattresses are suitable for use on the upper bunk.
Conforms to BS EN 747:2012
155cm Width Including Ladder
Crafted from powder coated steel with an aluminum finish
Solid wooden ladder rungs ensuring a sturdy frame with long lasting durability.
To minimise the danger of falling from the top bunk, we recommend that the top of the mattress should always be at least 16cm below the top of the lowest part of the guardrail. Maximum mattress height for this bunk is 18cm.
Over all size 
163cm D x 201cm W x 156cm H
Please ensure you have noted that the top bunk mattress should be at least 16cm below the top of the lowest part of the guardrail.
FREE MATTRESS FOR TOP & BOTTOM BUNK WITH CURRENT PROMOTION


PLEASE NOTE THAT THIS ITEM IS CURRENTLY TAKING 8-10 WEEKS FOR DELIVERY
DELIVERY CHARGE OF £40 APPLICABLE PRIOR TO DELIVERY